No challenge too wild for Namibia's Cowboys

They've transformed an abandoned ruin into a petrol station overnight for a Hunters TV commercial, built floats amongst the crocodiles on the Okavango River for a BMW photo shoot, supplied 50kg of identically-sized pieces of biltong (beef jerky) to the Mad Max film set, and driven through the desert dunes for 8 hours to deliver just one generator…The Cowboys are well-known to take on the most demanding challenges.

"But it's not just the wild challenges we thrive on," says frontman Heinz 'Cowboy' Büttner. "We'll take on anything – no matter how big the job, random the request, or remote the location."

Their comprehensive range of services backs up Cowboy Büttner's statement. While The Cowboys specialise in manufacturing a wide variety of steel products and converting shipping containers into anything from luxury accommodation and air-conditioned offices to ablutions and workshops on remote film locations – they also provide water, sewage and ablutions facilities; plant and machinery solutions; build sets; and have a comprehensive collection of props for hire.

Apart from the team's fierce 24/7 dedication to the job at hand, Büttner's business partner Carl Ehmke quite simply attributes their success to the fact that they're locals. "We have a pretty extensive network, which means we can source any material, find the most trifling objects and fulfil even the most curious requests." Ultimately, The Cowboys crew knows no boundaries.

If you're up early enough, you may catch sight of The Cowboys' trademark sunrise-orange 4x4 rambling down the roads, or ramping the dunes, on its way to fulfil another out-of the-ordinary request for another out-of-this-world production – and you'll know The Cowboys are at it again.

... An extract from the "2013 Film Directory" ...
"Hunters" Commercial (2011) - Site Construction
| | | |
| --- | --- | --- |
| Before | | After |
| Decorative Equipment Rental | | Steel Construction Roof |
"Die Wüstenärztin / Whispers of the Desert" Movie Production (2011)
| | | |
| --- | --- | --- |
| Site Setup | | Site Setup |
| Site Setup | | Site Setup |
| Site Inspection | | Site Inspection |
| Facilities Provision - Ablution & Sewage Facilities | | Facilities Provision - Water |
"Mad Max - Fury Road (2012)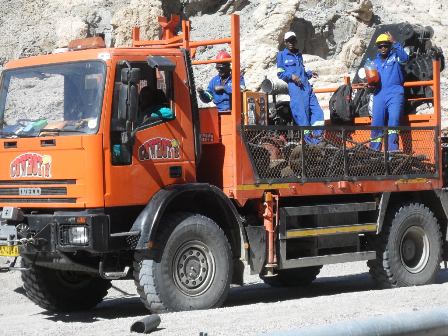 Site Setup & Facilities